Godzilla vs Interval was the first Movie Kit built completely in MediaFlow on the PC. It generates a 2 minute movie in which the user saves Interval from an attack by Godzilla.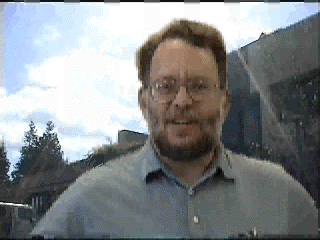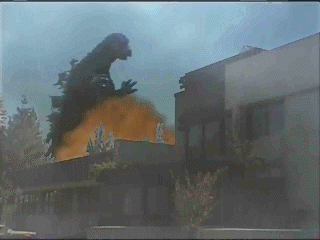 The Movie Kit generated the output movie using a template movie with five "wildcards" where shots of the user were inserted. The five shots were recorded using a camcorder, then digitized and input to the Movie Kit software.
The software analyzed the shots to produce speech and motion metadata, then used the metadata to process the wildcard shots and insert them into the template. The resulting movie was then rendered to an AVI file.
The picture below shows a MediaFlow timeline displaying the video and audio streams and three motion metadata streams for the run-to-window shot.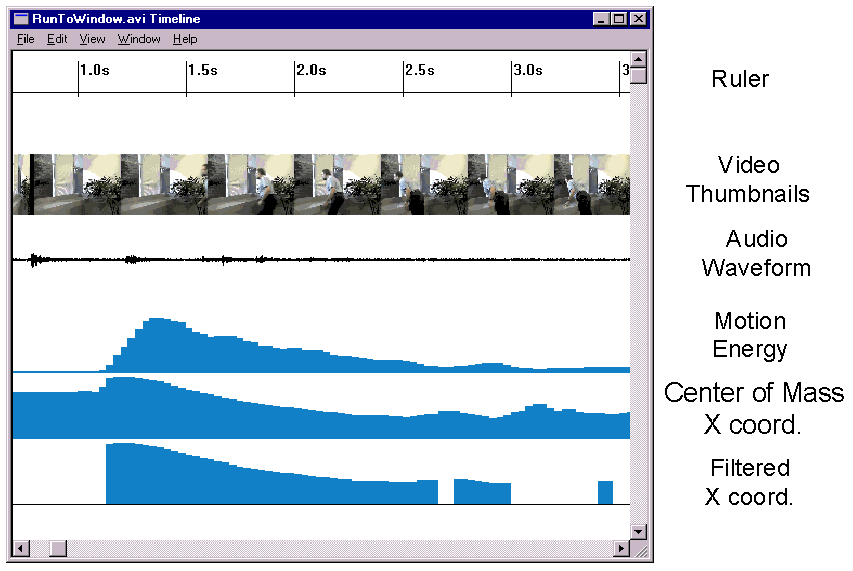 The technical goal of the Godzilla vs Interval Movie Kit was to show that a movie kit could adapt to a wide range of user performances. For example, in the "run-to-window" shot the user is asked to start offstage (out of the picture), then run to a window and look out in horror.
The camcorder was turned on before the user started running, and turned off after the user reached the window. The Movie Kit software used motion analysis was to trim the shot so that the first frame in the trimmed shot is when the user enters the picture, and the last frame is shortly after the user reaches the window. The effect was to achieve an automatic "cut-on-motion" that worked regardless of how long the user waited before starting to run, how fast they ran, how long they remained at the window, etc.
In a similar manner, audio analysis was used to trim some shots down to just the part where the user is speaking. The term adaptive movie template describes a template movie that can adapt to varied user performances in this way.